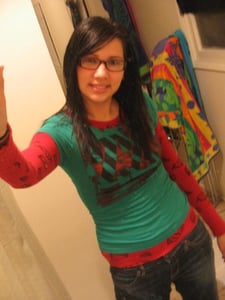 $

30.00
This is the MA46 signature shirt! Messily hand-screened, each shirt is an individual and unique masterpiece of art.
This short-sleeved shirt has a red logo over the black MA46 diagonal stripes. Red on a green shirt! It should be so wrong, but it looks so right. Pair it up with your favorite long-sleeved red shirt (not included!) and cute hipster girl.
Hand-printed on a fine, slightly stretchy cotton tshirt. Girls will probably be cap-sleeve. Most likely to be a v-neck.