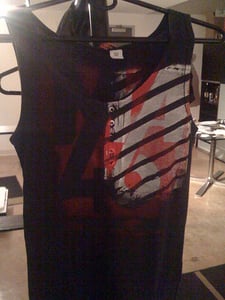 $

30.00
This is one of our personal favorites. The signature MA46 stripes denote this wife-beater as a rabble-rousing flag to the post-nuclear armageddon society.
Red logo hand-screened onto a stretchy wife-beater: either black 2x1 ribbed (button-up) or a 100% cotton burnout (semi transparent) wifebeater. Feel free to beat your significant other, not just wives, while wearing this.
Available in "cute girl" sizes only, because no dude should ever wear one of these. Be aware that every shirt is a totally unique piece of art, and you're gonna have fucked-up ink all over it.
You can also get it in other designs; for example, the center-strip in hello-kitteh pink:

Or horizontal with burned bleach style and asymmetrical logo:

If you want a specific style, be sure and let us know which one. Otherwise, it'll be random.
This last pic is vaguely related to the Throw Up A Tag tshirt -- but it has our trademark red stripes on it.